America | 2010-2014
Pavement Rehabilitation, Colombia, South America
Products:ACEGrid® GA
Application: Pavement Improvement
Background

The original main traffic road with asphalt surface in Columbia, South America, has been showing extensive reflective cracking which is the major drawback of asphalt pavements, and has caused damages due to high axle loads or increased traffic loads.

Problem / Task

Reflective cracking in the pavement surface has caused numerous problems, such as discomfort for the users, lower safety, added infiltration water and reduction of bearing capacity. Commonly, a paved road becomes a candidate for maintenance when its surface shows significant cracks and potholes. Therefore, the government would like to choose economical and long-term performance way to solve the cracks on the pavement.

Solution/ Design & Construction

ACEGrid® GA glassfiber geogrid is being increasingly used at asphalt overlay base level to enhance the overall performance. The asphalt reinforcement with ACEGrid® GA has an advantage that it can be placed in the asphalt layer to restrict reflective cracks and ease the installation. In this project, after milling of the original pavement, it can be installed directly and overlaid with hot mix asphalt.

Result

After the construction is completed, the performance of reinforced pavement shows very good condition. No reflective cracking and pothole are discovered. On the other hand, the depth of ruts is also decreased and has well serviceability.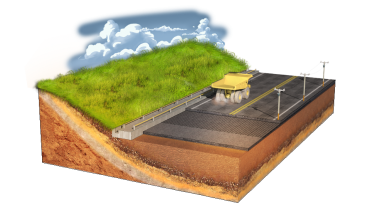 One of the most commonly visible damages along highways and roads are reflective cracks. Applying the bitumen coated glass fiber ACEGrid® GA or the ACECompo...
Related Products
Similar Case Studies
Taiwan | 2015-2019
Products:ACEGrid® GG
Application:Bridge Construction
Asia | 2015-2019
Products:ACEGrid® GG
Application:Base Reinforcement
Taiwan | 2015-2019
Products:ACEGrid® GG
Application:Slope Stabilization, Road Widening