Taiwan | 2010-2014
Miaoli County Road 22 Widening Project, Miaoli, Taiwan
Products:ACEGrid® GG
Application: Road Widening
Background

Miaoli County road 22 is situated in Miaoli County relating between Taiwan national highways number 3 and 13. The road mostly crosses a mountainous area and is widely used. After evaluation, it was found that the road should be taken care of in terms of widening and protecting/reinforcing its embankment.

Problem / Task

The embankment adjacent to the road is neither stabilized nor reinforced, hence, landslides are more likely to occur resulting in slope failure. Moreover, the road was in a bad condition, not only considered uncomfortable for passengers but also too narrow for a smooth traffic flow. Consequently, a road widening was required along an embankment reinforcement.

Solution/ Design & Construction

The reinforced structure was designed as to resist earthquakes and other natural disasters. It was reinforced using ACEGrid® GG along 13 vertical layers, layered with a 0.5m spacing, and covering an overall structure height (from toe) of 6m tall embankment, and a width (including the new road) of 10m. The structure was not only designed for the resistance aspect, it was also designed to have an ecological extent, where the adopted facing system was the wrap-around system. Vegetation can grow on ACEBag surface allowing landscaping and ecological system implementation.
In order to enhance the slope stabilization, the soil beneath the reinforced structure was stabilized by soil nails deep drilled within the soil, and covered with a concrete facing.

Result

Adopting ACEGrid® in embankment reinforcement purposes yields in long term stability, that it, next to being light and non-rigid, the ACEGrid® offer a very high tenacity against deformation and creep, and the overall structures, including ACEGrid® are stable against heavy weather changes and earthquakes. The green engineering trait is highly characterized as the reinforced earth structure enables energy-saving and carbon emission reduction up to 80% compared to the traditional RC design. On the top of that, the wrap-around facing provides space for vegetation to grow, hence, integrating the new construction in the overall landscaping, and creating an ecological system for species to settle in.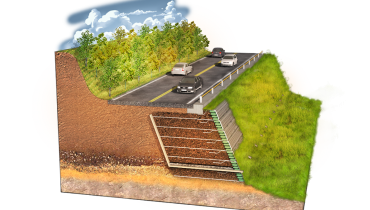 Road widths are extended to accommodate higher volumes of traffic and improve the safety of traffic routes for both motorists and pedestrians. ACETex® and A...
Related Products
Similar Case Studies
Taiwan | 2015-2019
Products:ACEGrid® GG
Application:Bridge Construction
Asia | 2015-2019
Products:ACEGrid® GG
Application:Base Reinforcement
Taiwan | 2015-2019
Products:ACEGrid® GG
Application:Slope Stabilization, Road Widening