Asia | 2010-2014
Reinforced Earth Quay Wall, UAE
Products:ACEGrid® GG
Application: Seawalls and Bulkheads
Background

The site was a fish port located between Khor Fakhan Beach and Khorfakkan Container Terminal (KCT). It was the principal daily-living facility for local residents. Many years ago, breakwater was built in the area; however it was not connected to the quay. Therefore, the fish boats could only berth on mudflats or inshore zones, causing inconvenience to the fishermen in mooring the boats safely.

Problem / Task

After the breakwater was built, the number of berth boats increased annually. The excess shipping traffic caused port access and management difficulties; especially when the tropical cyclone hit the area, the yachts and boats swarmed into the area one by one resulting in multiple shipping collision accidents. For this reason, the port authority decided to build both a quay wall and a marina to expand the mooring area and facilitate the port activities.

Solution/ Design & Construction

The designer proposed building a 3m high reinforced earth quay wall. To reduce the uncertainty of concrete construction under water, the wall face was built with stacked precast concrete blocks, each has 70cm high. These blocks then were tied with ACEGrid® geogrid GG40-I and GG60-I so that the interaction of reinforcing could increase the stability of the quay wall.

To avoid the reduction of soil strength caused by the sea, as well as the possible structure settlement, the foundation of the retaining wall below water level was backfilled with graded aggregate. The upper part above water level was backfilled with sand.

Result

After the quay wall was completed, six vertical marinas were installed inside the fish port. In addition, mooring posts were placed in the remaining area, thereby increasing the capacity of the fish port.

Upon the operation, not only has the management difficulty improved, but the environment has also become friendly. Thanks to the ACE system, the quality of life is now totally enhanced. Although the quay wall and marina have been attacked by tropical cyclones from the Gulf of Oman, these structures remain steady.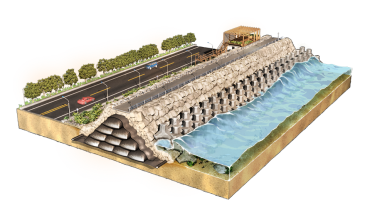 Seawalls, as wave-proof structures built along the shoreline, are important hydraulic structures to withstand waves, tides or surges for protection of inhabited...
Related Products
Similar Case Studies
Taiwan | 2015-2019
Products:ACETube® - hydraulic structures
Application:Sediment Dredging, Cofferdams
Taiwan | 2015-2019
Products:ACETube® - hydraulic structures
Application:Sediment Dredging, Seawalls and Bulkheads
Taiwan | 2015-2019
Products:ACEGrid® GG
Application:Seawalls and Bulkheads, Revetments