Asia | 2020-2024
Cofferdam Construction for Renewable Energy Plan, Taiwan
Products:ACETube® - hydraulic structures
Application: Cofferdams
Background

The comprehensive plan of operating base for renewable energy is one of the important government policies in Taiwan. The total development area is 35 hectares, including the ground of fishing ports, road, and the tourism industry; in this case, the engineering project mainly involves new docks building, revetment protection and dredging.

Problem / Task

In response to build a new dock for working crafts to berth and operate; thereby, backfilling the in-situ silt into the zone near the shoreline is required. On the other hand, long-term accumulation of silt needs to be dredged to broaden the navigation area. In view of the above requirements, a temporary cofferdam for sand pumping and backfilling and at the same time to solve the problem of sand siltation is what the case called for, so the ACETube® construction method was chosen as the solution.

Solution/ Design & Construction

To meet the design height requirements, PP high-strength woven geotextile is used. The design height of the cofferdam is 5 m, and the final structure section is stacked with 2+1 ACETube®. The design of 2+1 ACETube® at the bottom is 38.7 m long and 22 m in circumference; the upper layer is 34.4 m long and 22 m in circumference. The design height for the case can reach after filling.

The construction site is in the intertidal zone; the maximum tidal level difference is about 4 m, and the water depth is about 1 m at low tide. Therefore, for the convenience of construction, the bottom ACETube® is filled at low tide. The water-sand ratio of the filling material will be adjusted during the filling operation, which can help the ACETube® to increase structural integrity. In addition, the special handling loops design customized according to the needs of the case can effectively assist the spreading, positioning, and anchoring of ACETube® in the filling process, or to replace for the lack of on-site construction equipment.


Result

After the completion of cofferdam built with ACETube®, the construction contributed to two benefits. One is that the in-situ sand fills the zone near the shoreline behind the cofferdam, and the other is to prevent the ebb and flow of the current from bringing out of the sand. It achieves land reclamation and sand fixation so that the construction plant can focus on working on other projects in this area. In addition, the ACETube® will cover ripraps as a permanent cofferdam. ACETube® application saves not only the dredging fee, transportation fee, and material costs but also shortens the construction period.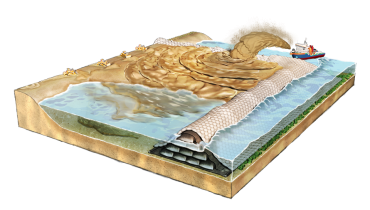 Temporary water-barriers are cost-effectively built with ACETubes®. The geotextile tubes protect against water forces thrashing along the exterior of coffer...
Related Products
Similar Case Studies
Taiwan | 2015-2019
Products:ACETube® - hydraulic structures
Application:Sediment Dredging, Seawalls and Bulkheads
Taiwan | 2015-2019
Products:ACEGrid® GG
Application:Seawalls and Bulkheads, Revetments
Taiwan | 2015-2019
Products:ACETube® - hydraulic structures
Application:Submerged Breakwaters & Artificial Reefs