Europe | 2015-2019
Sludge Dewatering in a Sewage Treatment Plant, Lithuania
Products:ACETube® - dewatering system
Application: Sludge Treatment
Background

The sewage treatment plant in Lithuania primarily uses physical, biological and chemical methods to mitigate the contaminant in wastewater. The treatment plant treats domestic sewage and industrial wastewater by separating solid pollutants in water and reducing organic pollutants and nutrients (mainly nitrogen and phosphorus compounds). Nevertheless, some sludge derives from the treatment continue to cause processing challenges.

Problem / Task

Sludge containing a large quantity of organic matter is usually susceptible to foul smell and bad odor which emanates from the storage/dry pit. The main idea of sludge treatment is to decrease the sludge volume and effluent so that it is easy to dispose of, sludge stabilization and further reuse. Besides, the customer is seeking a more effective solution for sludge dewatering than drying beds.

Solution/ Design & Construction

To satisfy our customer's needs, ACE adopts the ACETube® dewatering system - a solid-liquid separation technique. The dewatering system can be applied to treat different sorts of sludge. The ACETube® is not only made by high permeability geotextile with the optimal aperture to enhance filtration performance but also can resist ultraviolet light, acid, and alkaline. In addition, the tube in this case was fabricated with Polypropylene yarns P 70/105, which circumference is 11.25 m and length is 45 m. Sludges are extracted from ponds following run into curved pipes- slow down the flowing speed to increase the flocculation effect. During mixing, flocculants agglomerates particles into flocs and sperate the solids and liquid. Fill the sludge into tubes and drain out the clear effluent water; solids remain in the tubes. When the tube is full, it can be disposed of or reuse.

Result

Owing to utilize the ACETube® dewatering system and flocculation effect, the result of dealing with sludge is remarkable. ACETube® successfully increases the sludge treatment capacity while also decreases the treatment time. This case was an innovative solution of sludge dewatering in Lithuania.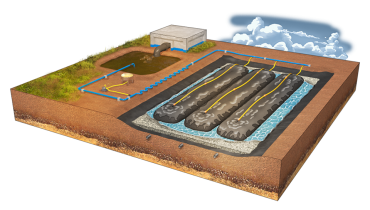 ACE containment geosynthetics are ideal for sludge treatment procedures. The challenges involved with the management of sludge and waste materials from collecti...
Related Products
Similar Case Studies
Taiwan | 2015-2019
Products:ACETube® - hydraulic structures
Application:Sediment Dredging, Cofferdams
Taiwan | 2015-2019
Products:ACEGrid® GG, ACEDrain™ S
Application:Flood Detention
Taiwan | 2015-2019
Products:ACEGrid® GG, ACESandbag™ EC, ACELiner™
Application:Flood Detention