Taiwan | 2015-2019
Ecological Landscape Park with Function of Flood Detention, Pinglin Forest Park, Taichung, Taiwan
Products:ACEMat™ R
Application: Flood Detention
Background

Taichung Pinglin forest park covering about 11.7 hectares is situated on the land which was originally served as military camp. In recent years, due to the decrease of the serviceman, reducing the demand of lands and the urban planning policy, the government intended to reconstruct this area as a multifunctional ecological park providing recreational space, a scenic environment and a water-detention basin.

Problem / Task

In order to achieve the government's policy objectives and improve the greening rate, the owner intends to plan a forest area reaching 3.7 hectares, and plus a water-retention basin of 32,000 square meters. It not only provides the function as a detention basin for water collection during the flood, but also offers a pleasant forested place for the residents to enjoy their time daily; moreover, it could promote the development of this area.

Solution/ Design & Construction

In this case, the area starts up to construct the green park and ecological water-retention basin. In order to make a green landscape, using the Rectangular Pyramidal Geomat, ACEMat™ R High Performance Turf Reinforcement Mats (HPTRM) to create a green ecological landscape park. The area covered by the ACEMat™ R is about 8,000m. ACEMat™ R manufactured by polypropylene yarns, with the three-dimensional structure can closely integrated with the soil and fertilizer to support vegetation. Furthermore, thanks to the increase of the surface roughness, surface soil eroded by the rainfall can be avoided. ACEMat™ R can protect slopes and also prevent the erosion ditch formed naturally from expanding. In addition, ACEMat™ R with the flexibility characteristic can be adapted to the local terrain condition and be installed easily.

Result

The construction of the Pinglin forest park provides an environment which can not only conserve water, adjust temperatures, provide a biological habitat but also maintain the current landscape. The utilization of the green materials, ACEMat™ R High Performance Turf Reinforcement Mats(HPTRM), improve the visual oppressive of concrete and form a multifunctional, ecological and sustainable green park to adjust the temperature in the near region, and effectively decrease the air pollution.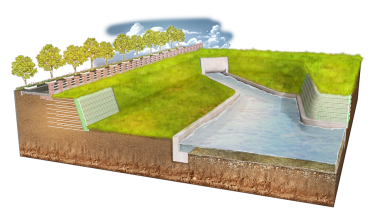 Detention basin is usually constructed in the heavy rainfall runoff area to temporarily store surface runoff and reduce the influence of flood on downstream are...
Related Products
Similar Case Studies
Taiwan | 2015-2019
Products:ACETube® - hydraulic structures
Application:Sediment Dredging, Seawalls and Bulkheads
Taiwan | 2015-2019
Products:ACETube® - hydraulic structures
Application:Sediment Dredging, Cofferdams
Taiwan | 2015-2019
Products:ACEGrid® GG, ACEDrain™ S
Application:Flood Detention