Asia | 2010-2014
Dredged Materials Disposal, Wan Chai Development Phase II Project, Victoria Harbor, Hong Kong
Products:ACEContainer™
Application: Sludge Treatment, Sediment Dredging
Background

Victoria Harbor is a natural landform harbor situated between Hong Kong Island and Kowloon in Hong Kong. About 220,000 ships visit the harbor each year averagely, including both oceangoing vessels and river vessels, for both goods and passengers. The maintenance of normal operation of shipping determines the success of the service.

Problem / Task

One of the major managing difficulties for port authority will be the clean-up and disposal of sediments originated from oil mixed settlement of suspended solids and fluvial sediments from upstream rivers. Environmental concerns have been expressed about the disposal of these dredged sludge materials, in terms of water quality and loss of natural habitat.

Solution/ Design & Construction

To execute the dredging and disposal of the sludge materials, the designer adopted ACEContainer™ for the Wan Chai Development Phase II project for Victoria Harbor. ACEContainer™ are monolithic geotextile containers designed to fit in split barge and pour in sediment, sand or other ground materials via clamshell bucket. Once the ACEContainer™ was filled, its openings were sewn shut and reinforced with rope ties. The barge moved to the designated location, the bottom opened and dropped the ACEContainer™, which settled to the bottom of the sea. ACEContainer™ has been designed to withstand the hydraulic impact in the marine environment with time. It is suitable for environmental needs and has been widely used for marine and hydraulic constructions as maintenance dredged material containment for further treatment and disposal. For this particular project, ACEContainer™ has a custom made dimension of 28 m in circumference and 12 m in length with a filling capacity up to 300 m3.

Result

Monitoring after the construction has observed no damage and leakage for the installed ACEContainer™. Use of ACEContainer™ to hold the dredged materials and drop it into the sea has shown successful to avoid the spreading of suspended solids in the water and thus it is indeed beneficial for the treatment of dredged materials. ACEContainer™ delivers high performance and achieves rapid and effective solution for dredging constructions when compared to those of traditional techniques. It is helpful for the improvement and maintenance of ports, harbors and waterways as well as to avoid environmental pollutions during disposal. Moreover, after ACEContainer™ is laid down on the seabed, it can be also adopted as the core of marine structure underwater as breakwater or shoreline protection.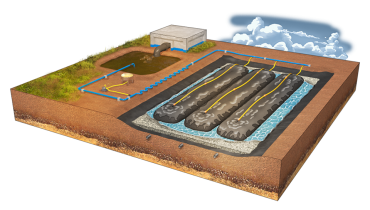 ACE containment geosynthetics are ideal for sludge treatment procedures. The challenges involved with the management of sludge and waste materials from collecti...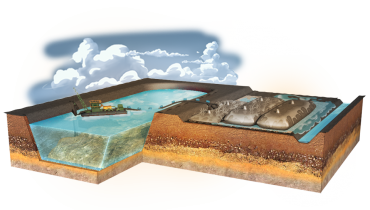 Freshwater and seawater currents carry sediments into harbors and other naval passageways constricting navigation and the flow of water. Dredging the sediment a...
Related Products
Similar Case Studies
Europe | 2015-2019
Products:ACETube® - dewatering system
Application:Sludge Treatment
Taiwan | 2015-2019
Products:ACETube® - hydraulic structures
Application:Sediment Dredging, Cofferdams
Taiwan | 2015-2019
Products:ACEGrid® GG, ACEDrain™ S
Application:Flood Detention