News
Reinforcement of the Slope at the Entrance Ramp of Interchange on National Freeway, Taiwan
"TOP STORY"

In Taiwan, an island nation, freeways play a pivotal role in facilitating north-south commuting, with expressways assuming even greater importance. National Freeway No.3 is Taiwan's second major north-south expressway, serving as a catalyst for balanced urban and rural development. Spanning regions that primarily encompass small to medium-sized towns and rural areas in western Taiwan, it significantly contributes to the economic growth of the areas it traverses. However, due to Taiwan's topography, the rainy season often brings concentrated heavy rainfall. In cases where water on slopes cannot be promptly drained, it leads to soil erosion and loss, posing a serious threat to road safety and commuter vehicles.

Background
This project is located at the entrance ramp of Gukeng Interchange on the Northbound of National Freeway No.3. The site is close to a mountainous area with frequent intense heavy rainfall. The soil has been seriously eroded because the runoff on the slope cannot be efficiently removed. In addition, the trees and shrubs on the slope also presented significant root channeling, blocking the slope's drainage system, worsening the slope's drainage of the runoff, and thus further increasing the risk of the slope's instability. Considering these problems, the Authority of the National Freeway decided to take necessary and appropriate measures to restore the slope.

Problem
In addition to the problem of slope soil erosion caused by heavy rainfall, this project also encountered a more severe challenge - the site constraint to accommodate large equipment during construction. For such conditions, the project's construction must consider the site's restrictions and the construction method's practicality. During the construction period, the freeway will remain open for operation. Therefore, it is crucial to prioritize construction safety, including conducting a thorough safety assessment of the existing traffic flow and construction site. The contractor should develop an effective traffic control and management plan to ensure safety.

Design& Construction
This project faced various challenges, such as site constraints and construction safety, along with the need to consider slope stability, eco-environment, and landscape aesthetics in its design. After evaluating several options, the owner and the designer finally decided to adopt the reinforced soil slope for construction.

Temporary retaining rail piles are installed before the slope excavation to avoid possible collapse risks. Thus, safeguard the safety of the freeway during the construction period. The slope was then excavated in stages, downward, to improve slope stability. Such excavation effectively reduced the earth pressure, providing larger space for efficient work by construction workers. Furthermore, equipment and tools can move around with greater ease, enhancing the overall productivity of the construction site. In addition, the excavated material was applied to the later reinforced slope, eliminating the need to dispose of it offsite. It reduced carbon emissions and conformed to the project's sustainability goals.

Schematic diagram of the reinforced soil slope


For the structural design, ACEGrid® geogrid with a strength of 150 kN/m and reinforcement lengths ranging from 2.5 to 5 meters were selected. Considering the site constraints, the slope angle was set at 70 degrees, with its height varied from 3 to 6.5m.
To address the issues of slope erosion and poor vegetation growth on steep slope, high erosion-resistant bags, ACESandbagTM EC, were used as the materials for wrapped around protection face for the slope. Their smaller openings and the inclusion of grass effectively reduced the risk of soil loss and specifically improved the erosion resistance of the slope surface.

A notable fact of this project involved preserving and restoring the current vertical and horizontal concrete drainage systems on-site. The project's goal was to achieve optimal results while minimizing costs. This practice showed that the reinforced soil slope construction could be satisfactorily adapted to local conditions while achieving an overall excellent performance of economic, safety, environmental friendliness, and landscape aesthetics.

Advantages
The design and construction of this project comprehensively considered multiple requirements, including site constraints, construction safety, slope stability, slope anti-erosion, and landscape aesthetics. Using reinforced soil slope technique and adopting ACE materials, the restoration has achieved the desired results, ensuring cost-effectiveness and overall meritorious performance of the engineering and sustainable environmental contribution. It is also of great significance to traffic safety maintenance in the area. Through the implementation of this project,freeway users can obtain safer and more reliable driving conditions, and the eco-friendly vegetated slope also can integrate with the surrounding natural environment.
---
Video
How to Repair Slope Erosion with ACEMat™ R Turf Reinforcement Mat?

In mountainous areas, heavy rain or even torrential downpours can occur during typhoons or the rainy season. It is prone to erode the slopes. It can be easily repaired with quality products-ACEMat™ R turf reinforcement mats and ACEPin™ earth anchors. ACEMat™ R is a range of High Performance Turf Reinforcement Mats (HPTRMs) crafted from high-strength polypropylene monofilament. It is a cost-effective and long-lasting solution for erosion control, boasting a high tensile strength of up to 60kN/m.It is resistant to abrasion, ultraviolet, and oxidation, ensuring durable performance. When compared to conventional methods like shotcrete or other hard armor protection, ACEMat™ R stands out. It can decelerate and filter runoff water, reducing erosion, and it is eco-friendly. Whether you need to control slight to severe erosion problems or line a channel, ACEMat™ R is an ideal solution. Choose ACEMat™ R for effective, affordable, and environmentally conscious erosion control.
---
UPDATED RESOURCES
---
Please refer to the latest uploaded information and files on the official website below, and feel free to contact us for further details.
Case Studies
1. Hong Kong International Airport Expansion, Hong Kong, China
○ Type: Base Reinforcement, Basal Reinforcement
○ Product: ACETex® PET
2. Reinforced Embankment, Peak Downs Highway (State Route 70), Australia
○ Type: Road Widening
○ Product: ACEGrid® GG
3. Restoration of No. 6 Groin with ACETube®, Gaoping River Weir, Taiwan
○ Type: Flood Detention
○ Product: ACETube® - hydraulic structures
4. ACEGrid® Reinforced Slope and ACEMat™ R Slope Protection System in Malaysia
○ Type: Slope Stabilization, Slope Erosion Control
○ Product: ACEGrid® GG, ACEMat™ R
5. Detention Pond with Reinforced Earth Dike for Fazi River, Taichung, Taiwan
○ Type: Revetments
○ Product: ACEGrid® GG, ACESandbag™ EC
6. The Use of Geotextile Tube for Copper Slurry Dewatering, Chile
○ Type: Tailing Dewatering
○ Product: ACETube® - dewatering system
To know our construction supports, visit
our website
.
To be a member, visit
the page
to apply for an account.
Similar News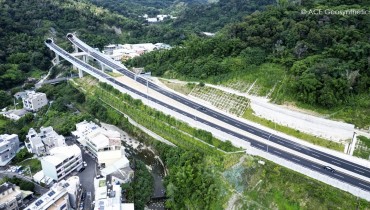 "TOP STORY" Located at the boundary of the Eurasian plate and the Philippine plate,...
2023/07/05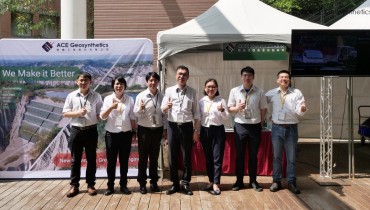 "News" The INTERPRAEVENT 2023 International Symposium recently took place in Ta...
2023/05/31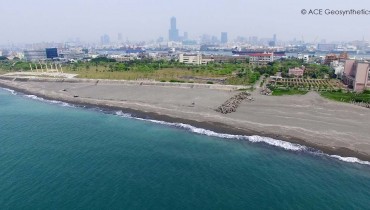 In recent years, many coastal facilities or structures mu...
2023/04/25