News
Learn about Geosynthetics Applications and ACE Geosynthetics in 15 Minutes
ACE Geosynthetics' new corporate videos are online! A sequence of four videos that we have been preparing for over a year, to tell a leading brand story-the geosynthetics solution provider from Taiwan to the world, in respect of all- around geosynthetics solutions, how to be "ACE" as well as a green construction promoter.
The first clip shows the origin of a dominant geosynthetics solution provider- ACE Geosynthetics- coming from where geological and climatic conditions promote for multiple disasters: Taiwan. As for the second clip, it presents, through elaborated 3D animations and photos, Corporate's offers for a wide range of high-grade construction materials in 9 categories and 15 state-of-the-art applications. The third part introduces our steady progress in terms of integration and improvement, from product manufacturing to R&D to material testing, as a means to provide professional technical services and optimum solutions on a global scale. The final clip conveys how to put our business philosophy into practice: ACE- the green earth solution provider, while shedding the light on ACE's winning awards record in the recent years as it is competitive in the global industry. Most importantly, we endeavor to meet customers' needs with an active attitude and sincere mind; with ACE Geosynthetics, safety, ecology, environmental protection and cost-effectiveness always come first.
ACE- Assurance in quality, Commitment in performance, and Excellence in engineering- not only are three main factors to succeed geosynthetics-related projects, but are also the values we carry for our dear clients.
Seeking for a reliable geosynthetics support? ACE supports all-around your needs.
Go to our YouTube channel to find the full sequence of videos from ACE Geosynthetics:
https://www.youtube.com/playlist?list=PLezB2l75Ca4NPSL_t8y3tssAX6AIWsoye
Similar News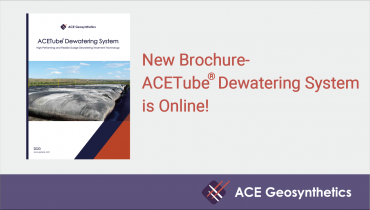 The new brochure of the ACETube® Dewatering System is published on our website today. The system...
2020/09/25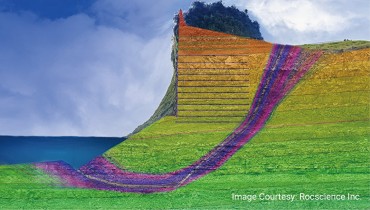 Rocscience announces the addition of ACE Geosynthetics GeoGrids to the already extensive list of Com...
2020/04/22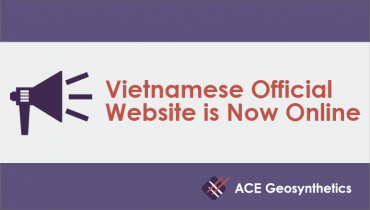 We are pleased to announce that ACE Geosynthetics Official website now is available in Vietnamese. W...
2019/06/17