Taiwan | 2005-2009
River Bank Protection, Kuanionkong Stream, New Taipei, Taiwan
Products:ACEBag™
Application: Revetments
Background

The project was located on the curved section of Kuanionkong Stream, atributary of Danshui River, in New Taipei City. The impulse of flow scoured the natural river bankto induce the collapse and affected its function. Consequently, for the safety of the residents, Taiwanese government has to come up with a applicable solution to deal with the issue of importance.

Problem / Task

Taiwanese government and residents expected the construction and design of civil structure could integrate the security and ecological environment. Therefore, an innovated and sustainable solution was required to satisfy the public demand, and to restore the function of protection.

Solution/ Design & Construction

This project is approximately 450m along the upstream of Kuanionkong Stream. ACEBag™ geotextile bags were put into the steel gabions and filled with in-situ soil. Stacked filled ACEBag™ was formed a revetment with 4 meters high. Polymer coated ACBag™ geotextile bags with proper apertures are durable which not only perform longer life but also function as vegetation.

Result

Up to now, the revetment structure still remains stable and solid, and the rich vegetation beautifies and greens scenery for the environment, not only to achieve the functions of the protection but also to form the pleasing landscape.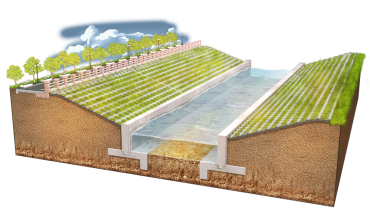 River embankment defenses are regularly upheld by artificial revetments. Several cost-effective ACE geosynthetic options exist that frame riverbanks, curtailing...
Related Products
Similar Case Studies
Taiwan | 2015-2019
Products:ACETube® - hydraulic structures, ACEFormer™
Application:Revetments, Pier Scour Protection System
Taiwan | 2015-2019
Products:ACETube® - hydraulic structures, ACEFormer™
Application:Levees and Dikes, Revetments, Wing Dams / Groynes, Pier Scour Protection System
Taiwan | 2010-2014
Products:ACEGrid® GG, ACEBag™
Application:Revetments