Taiwan | 2010-2014
Revetment Protection, Anliang Harbor Canal, Taichung, Taiwan
Products:ACEGrid® GG
Application: Revetments
Background

Anliang harbor canal, one of the most important waterways in Taichung area, is responsible to discharge the collected water from the upstream basin of Grand Metropolitan Taichung.

Problem / Task

Due to the accumulation of silt and trashes and the randomly overgrown weeds, the volume of the waterway had significantly reduced. Therefore, the discharge capacity of flooding had decreased, led to the scouring effect more and more severe with time. Such malfunction not only jeopardized the stability of the canal, but also caused local residents vulnerable to flooding risks. The poor canal condition must be improved in a timely manner.

Solution/ Design & Construction

Considering the importance of the canal, Taichung City Government called for a remediation project, including dredging, widening, and remodeling of the canal. The purpose was not only to resume the flooding protection capability but also to reinstate the canal as an eco-friendly environment for residents and visitors. Based on the client's objectives, the designer developed the scheme of the project: safety, durability, aesthetic, and sustainability.

The first step of the construction was to stabilize the base of the canal by installing pile-supported reinforced concrete revetment for areas below the water level. Then, reinforced earth slope (RES) with ACEGrid® GG geogrid was placed as revetment in the upper portion of the canal. The RES also functioned as the retaining structure for the service road along the canal. It was constructed with geogrid wraparound facing with an inclined ratio of 1:2 (H:V). Stacked soil-filled sandbags were used for slope face protection. They were hydro-seeded and the vegetation has been displayed pleasant greenery with time. The geogrid and sandbags were integrated with local compacted natural soils to build a sustainable structure.

Result

The construction took about four months to complete in the summer of 2011. Since then, the revetment has been through several attacks of strong typhoons and by far still remains in stable condition. The durable service condition together with a variety of valuable species and the attractive waterfront scenery on the site has proved ACE revetment composite system totally meets the demands of the project objectives: safety, durability, aesthetic, and sustainability.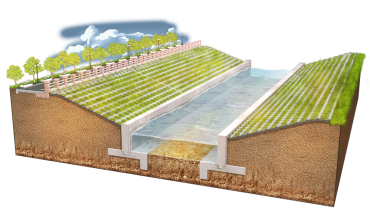 River embankment defenses are regularly upheld by artificial revetments. Several cost-effective ACE geosynthetic options exist that frame riverbanks, curtailing...
Related Products
Similar Case Studies
Taiwan | 2015-
Products:ACETube® - hydraulic structures, ACEFormer™
Application:Revetments, Pier Scour Protection System
Taiwan | 2015-
Products:ACETube® - hydraulic structures, ACEFormer™
Application:Levees and Dikes, Revetments, Wing Dams / Groynes, Pier Scour Protection System
Taiwan | 2010-2014
Products:ACEGrid® GG, ACEBag™
Application:Revetments