Taiwan | 2010-2014
Reinforced Soil Slope for Revetment Project, Pingtung, Taiwan
Products:ACEGrid® GG, ACESandbag™ EC
Application: Revetments
Background

Frequent and abundant rainfall appears in Pingtung Plain on account of the affect of monsoon and ocean circulation, and the problems of land subsidence and narrow channel result in low-lying land and poor drainage, therefore the inundation is arise while the storm attacks.

Problem / Task

This project is a typical case as aforesaid; this narrow stream, the tributary of Wuluo River, with the low-rise revetment is meandering through the farmland and rural settlement. The regulation of stream was desired immediately because it was unable to discharge the raging torrent owing to the climate change.

Solution/ Design & Construction

The plane was dredged and broadened the stream to 35 meters and heightened the revetment to 3.9 meters. For safety, ecology and landscape reasons, it was adopted the reinforced concrete to build the anti-scouring foundation beneath the revetment base, the revetment slope under the high water level was protected by the concrete, the ACEGrid® wrapping reinforced slope was employed for upper portion of revetment. The stacked and soil-filled ACEBag™ for reinforced slope face was functioned as the medium of planting; the vegetated slope was not only good at landscape but also well performance of erosion control. The crest of revetment was paved of asphalt concrete to prevent the seepage and be the recreation area for local residence.

Result

Through a baptism of Typhoon of Morakot, the structure still functions properly and receives the well commentary from residents and officials.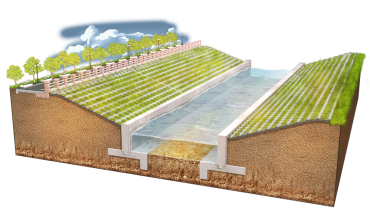 River embankment defenses are regularly upheld by artificial revetments. Several cost-effective ACE geosynthetic options exist that frame riverbanks, curtailing...
Related Products
Similar Case Studies
Asia | 2015-2019
Products:ACEFormer™
Application:Revetments
Taiwan | 2015-2019
Products:ACETube® - hydraulic structures, ACEFormer™
Application:Revetments, Pier Scour Protection System
Asia | 2015-2019
Products:ACEFormer™
Application:Revetments