Taiwan | 2015-2019
Application of Geogrid Reinforced Structure for Abutment Construction, Taichung, Taiwan
Products:ACEGrid® GG
Application: Bridge Construction
Background

In order to reduce the travel time of the residents from Houli District to the metropolitan area in Taichung, the government plans to build a connecting road between Shengang Interchange of National Highway No. 4 and Houli District. The connecting road needs to cross Dajia River, which is Taiwan's fourth largest river. Thus, the project contains a section of 2.9km long bridge.

Problem / Task

During rainy and typhoon seasons, flash flood made of soils, rocks, and driftwood will come across Dajia River, thus harmfully scour the bridge's abutment and piers that are built across the river. It frequently causes the bridge pier foundation to be endangered and even directly destroys the bridge. Moreover, Dajia River has a low degree angle of its basement, which makes a lateral erosion on both riverbank sides more severe. Besides the preceding scouring threat from flash flood, the construction of bridge abutment demands a large amount of soil excavation and filling. If the excavated surface is not well protected, it is prone to slope failure due to rainwater infiltration and external factor. Besides, a large amount of filling material also requires additional measures to ensure the stability.

Solution/ Design & Construction

A composite structure made of reinforced concrete and reinforced earth was constructed with the purpose of increasing structural stability, prevent scouring, and prevent lateral erosion of the abutment. Reinforced concrete is used to build the abutment pier and its foundation as the main component, whereas wrapped-around reinforced earth structure is constructed in the surrounding abutment. The wrapped-around reinforced earth structure presents a U shape, which completely covers the entire abutment. In addition to serving as the protective layer of the abutment, reinforced earth structure is also capable to enhance the bearing capacity and service life of the abutment. ACEGrid® geogrids and in-situ soils are implemented into reinforced earth structure construction. The design height is 20 meters which is divided into 4 tiers, each for 5 meters high. A drainage layer was also installed in each tier in order to efficiently discharge groundwater from the back of the abutment.

Result

This reinforced structure provides the stability of bridge abutment, prevents the scour and erosion process of Dajia River, and also sustains the vehicle loads above bridge abutment. It significantly enhances the abutment's safety and serviceability. The construction process utilizes a large number of excavation soils to backfill, which can greatly save construction costs. The exterior of the structure is completely integrated with the original scenery, due to its ability to provide a space for vegetation to grow. Overall, the structure compromises the social, economic, and environmental aspect of sustainable engineering.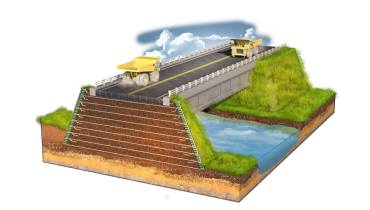 Integrating ACE mechanically stabilized earth abutments with ACEGrid® or ACETex® geosynthetics drastically cuts costs and construction time in designing...
Related Products
Similar Case Studies
Asia | 2015-2019
Products:ACEGrid® GG
Application:Base Reinforcement
Asia | 2015-2019
Products:ACETex® PET, ACETex® ES
Application:Subgrade Stabilization, Base Reinforcement
Taiwan | 2010-2014
Products:ACEGrid® GG, ACETex® PP
Application:Road Widening