Taiwan | 2010-2014
Drainage System Renewal , Fongshan, Kaohsiung
Products:ACETex® PP, ACETex® NW
Application: Revetments
Background

The construction project of No. 28 public park was located in Fongshan riverside with 4 hectares in total area, constructing an ecological green system to provide the recreational space for residents.

Problem / Task

The construction site was in the structured of rigid concrete without sound drainage system and poor soil permeability; therefore, it was prone to produce the surface runoff due to the failure to infiltrate rainwater into subsoil during the heavy rainfall.

Solution/ Design & Construction

The design of construction selected the high permeable geotextile combined with strong and durable gabions galvanized PVC as the construction materials. In addition, adopting natural materials like pebbles and soil and decreasing the usage volume of rigid concrete could reduce the impacts caused from the construction, and be provide with ecology benefits. The water retention layer, composed of pebbles by construction design, was able to provide the exceeding water from the construction site down to the soil layer through the gaps of pebbles placed in gabions. The gabions with woven and nonwoven ACETex® geotextile composites as ACEBagTM geotextile bags allowed to filter water in advance prior to flowing into soil layer, and to achieve the function for water purifying.

Result

After the construction was completed in 2011, the structure of foundation has still remained in a good condition; the water retention layer composed of pebbles and gabion composites are formed as drainage and water-guiding systems, effectively importing rainwater into subsoil layer and increasing the moisture content of soil. Besides, pebbles placed in the gabions provide the growth spaces for vegetation and make coastal areas embellished with landscape and ecology.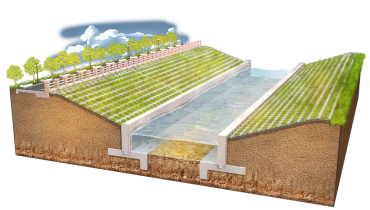 River embankment defenses are regularly upheld by artificial revetments. Several cost-effective ACE geosynthetic options exist that frame riverbanks, curtailing...
Related Products
Similar Case Studies
Taiwan | 2015-2019
Products:ACETube® - hydraulic structures, ACEFormer™
Application:Revetments, Pier Scour Protection System
Asia | 2015-2019
Products:ACEFormer™
Application:Revetments
Taiwan | 2010-2014
Products:ACEGrid® GG, ACEBag™
Application:Revetments