News
Visit ACE Geosynthetics at XIII EXPO CONGEO 2018 in Costa Rica
Are you excited about the upcoming XIII EXPO CONGEO?

ACE Geosynthetics will exhibit at XIII EXPO CONGEO from September 5 to 6 in Costa Rica, so welcome all of you to join us at the stand No. 12 and by this chance to discover more products and solutions in geosynthetics!

XIII EXPO CONGEO (CONGEO 2018) - 13th National Geotechnical Congress
Venue: Hotel Wyndham Herradura, Costa Rica
Date: September 5-6, 2018
Link to XIII EXPO CONGEO: www.geotecniacr.com/congreso
Stand: No. 12
Similar News
ACE Geosynthetics will attend and exhibit at the upcoming Eighth International Conference on Case Hi...
2019/02/22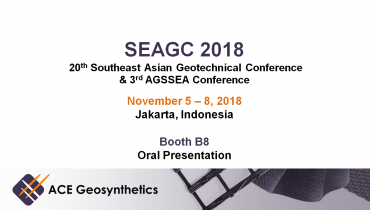 ACE Geosynthetics will exhibit at Booth B8 at the upcoming 20th Southeast Asian Geotechnical Confere...
2018/10/09
ACE Geosynthetics is invited to attend Geosynthetics 2018 on October 3 to 5, 2018 in Chile to presen...
2018/09/06