Europe | 
Lakeside Revetment, Prahova District, Romania
Products:ACEFormer™
Application: Revetments
Background

In a leisure zone planning area located in Prahova District, Romania, there was a severe landslide caused by heavy erosion which imperiled the houses and buildings and building around the lake.On the other hand, disordered growing vegetation was another issue associated with the planning area.

Problem / Task

A solution which would protect the community and residentsfrom further dangers of erosion as well as beautify the planning area was immediately required to conduct.

Solution/ Design & Construction

The best solution was to construct the revetment with ACEFormer™ Vegetation Type geotextile mattresses. This easy and quick method could shorten the construction time after the water in lake was drained out. The ACEFormer™ act as a strong cover layer on eroded area, and counteracts the attack from water to prevent the landslide. The special design of ACEFormer™ Vegetation Type would also crop landscaping plants to avoid the wanton growth of weeds.

Result

At present, the project is successfully finished; ACEFormer™ geotextile mattresses perform as the thriving revetment which is placed on the erosionslopes and continues to protect the area.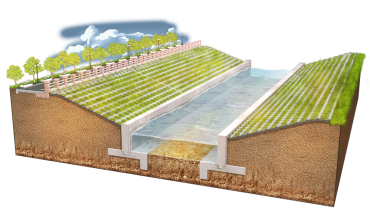 River embankment defenses are regularly upheld by artificial revetments. Several cost-effective ACE geosynthetic options exist that frame riverbanks, curtailing...
Related Products
Similar Case Studies
Taiwan | 2015-
Products:ACETube® - hydraulic structures, ACEFormer™
Application:Revetments, Pier Scour Protection System
Taiwan | 2015-
Products:ACETube® - hydraulic structures, ACEFormer™
Application:Levees and Dikes, Revetments, Wing Dams / Groynes, Pier Scour Protection System
Taiwan | 2010-2014
Products:ACEGrid® GG, ACEBag™
Application:Revetments